Configure S/MIME on Mac OS X Mail / Apple Mail
It is recommended to use the SAFARI browser on a Mac OS to request and collect the certificate. If you have already collected the certificate, please make sure that you have the certificate in PKCS12 format. If not, export the certificate from the SAFARI browser into a PKCS12 format.
Wenn Ihr Zertifikat auf dem von Ihnen verwendeten Computer noch nicht installiert ist, exportieren Sie es bitte von dem Computer, auf dem es sich befindet, mit einem der auf der SPAC-Hauptseite aufgelisteten Browser. Sie müssen es dann auf diesen Computer übertragen (per E-Mail an sich selbst senden oder die Zertifikatdatei auf USB speichern und dann kopieren). Sie können dann den Anweisungen zum ‹Importieren› in diesem Dokument folgen .
Import your certificate into Apple Mail:
Apple Mac OS uses the Keychain Access utility to manage digital certificates. To import your CPAC into Apple Mail:
click on «Anwendungen» > «Dienstprogramme» > «Schlüsselbundzugriff».
Choose on the left side linken Seite «Anmelden» and click «Datei» > «Objekte importieren …».
Navigate to the location of your PKCS12 certificate file and click «Öffnen» .
Geben Sie das Kennwort des Schlüsselpaars ein und klicken Sie auf «OK» . Please note: Wenn Sie gefragt werden, ob Sie automatisch von Ihrer Zertifizierungsstelle ausgestellten Zertifikaten vertrauen möchten, wählen Sie die Option Immer vertrauen, um Ihrem Zertifikat zu vertrauen und es zu installieren.
The certificate is installed and can be viewed by clicking on Category > Click My Certificates .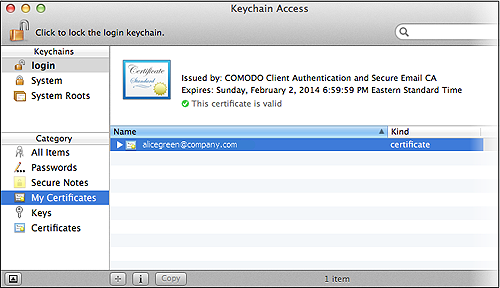 Once installed, the certificate is available for digitally signing and encrypting your email via Mac Mail and Apple Mail, and for authentication on websites that require certificate authentication.
Sign and encrypt emails
Signing an email ensures that the recipient knows that the email is from you and informs them that it has not been changed during delivery.
Encrypting an email ensures that only the recipient can read the content and attachments of the email.
Please note: To encrypt emails, you must first have your recipient's email certificate in your certificate store. In order to receive the certificate, you must contact your contact person to send you a signed email. After receiving the signed email, the certificate is automatically imported into your certificate store and you can sign / encrypt emails to this person.
Sign mail:
Compose your email and attach the files as usual.

Click the Sign icon that appears in the

creation window

.

Click the

send

button
How to encrypt emails:
Compose your email and attach the files as usual.

Click the

encryption icon

that appears in the Creation Window .

Click the

send

button